Testing Clean Makeup : Nude by Nature
Hello Lovelies,
This is post number one in my "Testing Clean Makeup" series! In my previous post, Let's Talk Pits, I mentioned that one of the things I wanted to do was test out "natural"/clean makeup brands for you all and post my honest reviews. Well that is exactly what I am going to do! This first post features a brand that I have very quickly fallen in love with! I have been using it for over a month now, and I can honestly say that I have never loved a brand as quickly as I have with Nude by Nature. So far, I have only tried two products, but I intend on testing out many other products by this brand VERY soon!
The two products that I am currently loving are: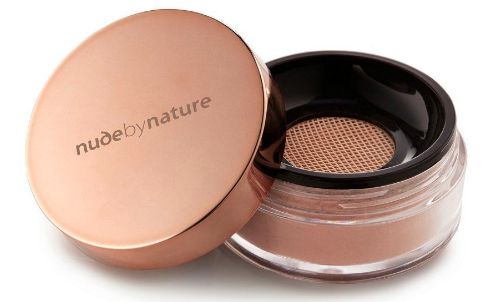 1. Radiant loose Powder Foundation
In the shade "Rose Beige"
A bit of background on the company:
Nude by Nature was created in 2008 in Sydney, Australia and produces natural, cruelty-free cosmetics.
"Nude by nature is committed to delivering 100% naturally derived and cruelty-free make-up, formulated without unnecessary chemicals, synthetic ingredients or preservatives often found in cosmetics." *

- Nude by Nature Philosophy statement taken directly from their webpage.
*A few friendly notes from me on the above statement:
Remember that chemicals make up everything… they are not all bad and scary like people often believe

There are such things as safe synthetics (such as those found in many other "natural" brands)

There are safe preservative options out there that are derived from plants and are necessary to make the products you love last for more than a few days.
I just wanted to include those three notes because there is so much controversy out there about terms such as "chemical, synthetic and preservatives" so in fairness, I thought I would offer some more information. I personally prefer to purchase products from companies like Nude by Nature that avoid all of the yucky bits, but I know some people do not care and I just thought I would throw that out there!

ANYWAYS, back to the point…
To really understand why I LOVE both of these products, you need a brief introduction to my skin:
Desert dry/flaky 99% of the time

Semi-oily chin (did I mention that my chin hates me + I hate it?)

Sensitive & acne prone 100% of the time
Basically…everything you DON'T want. But it's okay…I am learning to love myself and be patient with my skin…BUT in days when that is hard, these two Nude by Nature products truly save me! The loose powder foundation glides on so smooth, never sticks to my dry patches and feels like my skin! It is completely build-able from sheer to full coverage and NEVER looks cakey (even on days when I really need to pile it on!).
AND let's not forget the concealer! I have never used a concealer that is anything like this before. It feels like water applying to your skin, masks all of my redness/spots/scars and does not dry out! A tiny bit goes a LONG way with this magical concealer, and it even layers beautifully underneath the powder foundation. For me personally, I would suggest a lighter colour under the eyes (oh yeah, did I mention that not only is this an amazing blemish concealer BUT it also is a great under eye concealer too!? It never sinks into my lines and cancels out any darkness). I have mine in the shade "Rose Beige" which matches the rest of my face really well right now, but as my tan from a recent trip is fading, I can tell I will definitely need to opt for a lighter shade soon.
Either way, I am a huge fan of both of these products. I have never been able to wear powder foundation before as every brand I try seems to accentuate the dryness in my skin, but using liquid foundations is not always an option for me as they can sometimes irritate my sensitive skin. I have similar issues with finding a concealer that doesn't clog my pores and break me out. Finding the Radiant Loose Powder Foundation and Perfecting Concealer from Nude by Nature has honestly felt like a miracle. I no longer have to go outside on a really bad skin day feeling self-conscious about how red my skin is at that moment (not that you need make-up to feel confident, but if it helps you feel a bit better about yourself then who cares?! Go for it!).

Below I have listed all of the ingredients in both of these products so that you can check it out for yourselves, and be sure to click on the links above if you want more information on either product. Have you tried any natural beauty brands before? If so let me know in the comments down below! I would love to know what you are loving at the moment!
Yours Happily,
Kristyn
Radiant Loose Powder Foundation in Ivory
Mica, Magnesium Stearate, Jojoba Esters, Kaolin, Terminalia Ferdinandiana Fruit Extract (May Contain +/- : Ultramarines, Iron Oxides, Titanium Dioxide, Zinc Oxide).
Perfecting Concealer in Rose Beige
Water, Castor Oil, Sorbitan Oleate, Polyglyceryl-3, Poluricinoleate, Caprylic/Capric Triglyceride, Jojoba Esters, Glycerin, Capryloyl Glycerin/Sebacic Acid Copolymer, Diheptyl Succinate, Jojoba Seed Oil, Shea Butter, Beeswax, Lanolin, Isoamyl Laurate, Magnesium Sulfate, Squalane, Glyceryl Caprylate, Sodium Levulinate, Xanthan Gum, Sodium Anisate, Terminalia Ferdinandiana Seed Oil, Safflower Seed Oil, Tocopherol, Mica, Tin Oxide (May Contain +/- : Iron Oxides, Titanium Dioxide).
All of the photographs featured in this post are from https://nudebynature.ca/
This post is not sponsored. All of the opinions in this post are my own.